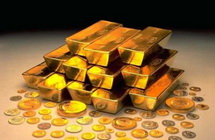 Are you wondering how to sell gold coins & bullion in San Diego County? Visit Escondido Gold Buyer to get more of the cash you deserve. Sell gold coins safely and securely with our gold coin dealers. Escondido Gold Buyer buys Mexican Gold Pesos & Escudos, Pesos, American Gold Buffalos & Eagles, British sovereigns, South African Krugerrands, Chinese Pandas, and other gold bullion coins.
Our San Diego coin dealers buy territorial gold coins from Moffat, Clark Gruber, Kellog, and other 19th century producers. We also buy numismatic gold coins produced by the United States Mint. We buy $20 Double Eagles. We buy $10 Eagles. We buy $5 Half Eagles & more. Sell gold coins from England, Australia, France, Russia, Canada, Portugal, and other nations with Escondido Gold Buyer.
Thinking about selling gold bullion online? Why take the risk? Sell gold bullion, gold bars, and gold ingots today with Escondido Gold Buyer. Our bullion buyers buy all gold investment products manufactured by Metalor, Perth Mint, Johnson Matthey, Pamp Suisse, and other gold refineries.
Escondido Gold Buyer is a service division of SDJB, Southern California's A+ BBB silver & gold bullion buyer, coin dealer, and luxury pawn shop. Serious Escondido gold sellers regularly visit us to get more cash for gold in a comfortable and professional environment.
How to sell gold coins and bullion now? Start by calling Escondido Gold Buyer at (619) 236-9603. Our estate buyers can schedule an appointment for a free consultation and appraisal. Our gold buyer offices are located in the historic San Diego Gaslamp Quarter, and we provide convenient free parking. We serve Escondido gold sellers on Monday thru Friday from 9am – 6pm and Saturdays from 10am – 5 pm.
How & Where to Sell Gold in San Diego County